Monday, November 29, 2010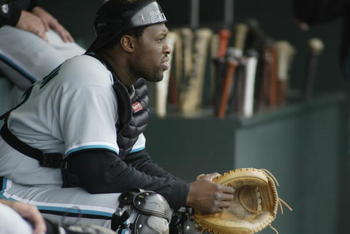 MLB released its
2011 Hall of Fame ballot
today, and included in the list of first-time candidates is the first Marlin and
child of the diaspora
Charles Johnson. To the best of my knowledge, Johnson is the first Marlin to be considered for the Hall that spent a bulk of his glory days in Florida. It is highly unlikely that he makes the Hall (Baseball Reference lists
Andy Seminick
,
Ed Bailey
, and
Ernie Whitt
as his closest comparables, none of whom are in the Hall of Fame). Nonetheless, I can't help but mark the occasion, since I have never even had to
consider
whether or not a former Marlin should be in the Hall of Fame (disregarding Andre Dawson, whose Marlins stint played no role in his election to the Hall of Fame last year).
Also included on the ballot for the first time are children of the Marlins diaspora Kevin Brown, Al Leiter, Benito Santiago, Ugueth Urbina, Ismael Valdez, and Lenny Harris. I'm 99% certain that none of them will make the Hall. Also on the ballot is Tim Raines, who finished his career in Florida, is on the ballot again. Here's hoping he surpasses last year's 30.4 percent total and joins fellow Expo/Marlin Andre Dawson in the Hall of Fame. In my mind, he certainly deserves it.
Read more...