Wednesday, January 25, 2012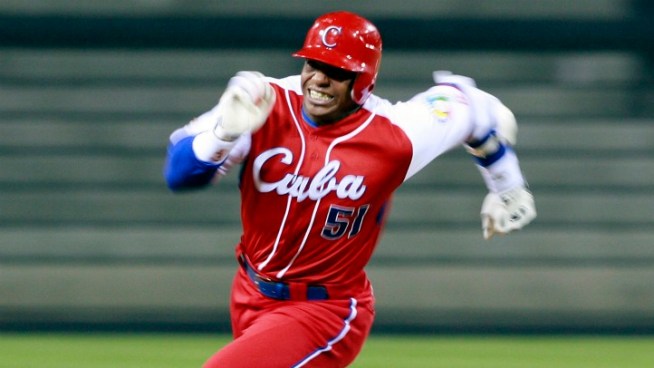 It is official, Yoenis Cespedes is now a free agent. The Marlins will make a strong push to sign the Cuban defector, regardless of the fact that he has faced MLB-quality pitching only sporadically in his professional career. One has to expect they have the inside track, thanks to the money they are willing to throw around and the fact that any Cuban player will be automatically revered in South Florida.
Rumors circled today that Cespedes doesn't really want to play for the Marlins, but MLB.com beat writer Joe Frisaro talked to his sources, who basically refuted that idea. It's up to you to decide which hearsay to believe; both are equally likely in my opinion.
If the Marlins do sign Cespedes, they will have to figure out where to put him. Frisaro thinks he could start the year in Double-A or Triple-A. Considering the fact that he has played almost his entire career in the Cuba (which is no longer the hotbed of talent it was even a decade ago), this makes sense. The guy could probably use a little bit of seasoning before being exposed to the Halladays and Strasburgs of the NL.
But when he gets up to the big leauges, where do they put him? He is probably athletic enough to play centerfield, but may be better suited to the corner outfield spots in the long term. Only problem there is that both of those are occupied by Mike Stanton and Logan Morrison. LoMo could be moved back to first base, but then where does Gaby Sanchez go? This is a good problem to have, but a problem nonetheless (and one that could lead to another vacuum in centerfield).
Nonetheless, the Marlins still have to actually sign Cespedes, so we can wait to cross that bridge when we actually get there.
*
Ted gets all the credit for this pun
. You should probably know by now that it's pronounced "yo-AY-nis."