Friday, December 2, 2011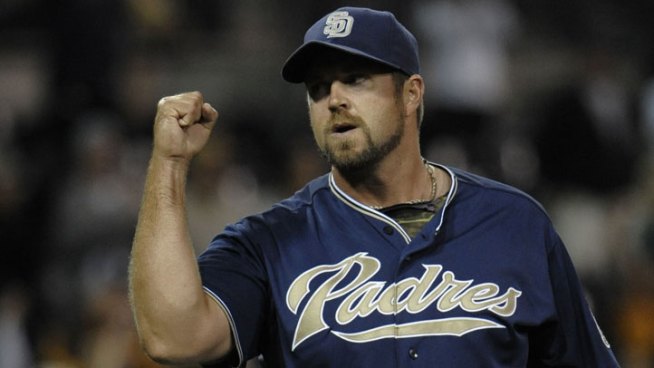 Heath Bell immediately after learning the clubhouse spread includes prosciutto-wrapped melon
If you had Heath Bell in the "First Marlins free agent signing of the winter" pool,
you just hit the jackpot
:
The Miami Marlins made their first big signing of the offseason Thursday night, signing former San Diego Padres closer Heath Bell to a 3-year, $27 million contract.

According to ESPN.com, Bell and the Marlins have all but agreed to the deal, which may include an option for a fourth year. Bell is expected to take a physical on Friday.

All that future revenue from the new stadium set to open next season must have been burning the figurative hole in the Marlins' pocket. Bell will make more money than all but Hanley Ramirez and Josh Johnson in 2012.
Two years ago, when the Marlins were reportedly in talks to acquire Bell via trade with San Diego, Ted noticed that Bell's rotundity
might bode well for the Marlins
. We can only hope the pattern of fat closers being lights-out for the Fish continues.
There has been quite a bit of debate about this signing on Twitter since the news broke. Here is the deal: The Marlins are paying $9 million a year for a guy who blew one fewer save than Leo Nunez/Juan Carlos Oviedo did last season. The similarities continue: both struck out roughly 7.5 batters per nine innings and had very nearly the same BABIP (.268 for Nunez and .261 for Bell). Nunez would have cost the Marlins $5-6 million in 2012. So that is $3 million for a few extra saves a year.
Bell posted 0.5 WAR in 2011, even with his gaudy saves total (43 - his third straight year of 40+ saves). In five years with San Diego, he put up 8.2 WAR, or 1.6 WAR per year. If that can be assumed to be a reasonable expected WAR/year, then the Marlins have just paid $5.5 million per win, which is a bit too much for my tastes.
There has been speculation that the signing sends a good message to other free agents that the Marlins are willing to pay for talent. This is nonsensical. The Marlins could send the same message by simply offering a lot of money to any of their other targets who either play every day or pitch more than 80 innings a year.
The other argument being thrown around is that the Marlins can overpay for a closer now that they will be raking in the dough from the new stadium. This ignores two important facts:
No team (not even the Yankees) has unlimited money. The $27 million being paid to Bell over the next 3 years could be better spent in a variety of ways, like locking up Mike Stanton long term.
As Michael Jong of Fish Stripes has pointed out, the Marlins have had much success in recent years patching together a bullpen on the cheap, and Steve Cishek and Edward Mujica could both have been viable closer options at a fraction of the cost of Bell. Just because you have the money does not mean you should spend it on a splashy free agent.
This is not to say that Bell is a bad closer. He will probably be good (so long as his dip from 11 to 7 K/9 in 2011 is not the beginning of a bad trend). But he is not worth $27 million, at least not in my opinion.