Thursday, February 23, 2012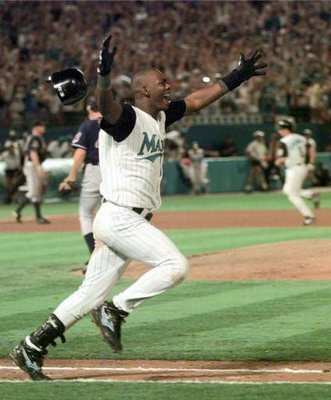 Edgar Renteria, SS
Played for Marlins:
1996-1998
Other Teams:
St. Louis, Boston, Atlanta, Detroit, San Francisco, Cincinnati
Marlins fans know him because:
Edgar signed with the Fish as a free agent when he was 16. In 1996 he made it to the show and had a solid freshman campaign, finishing second in the Rookie of the year. 1997 is the year everyone remembers though. His numbers tailed off from the previous year, but he was very clutch and had a number of game winning hits/RBIs. Most importantly, he ended the World Series with a walkoff single in extra innings of game seven. He stayed with the team in that awful 1998 year and was the team's lone representative in the all-star game.
Everyone else knows him because:
Good baseball fans will remember most for the 1997 heroics. Others may remember a unique fact about him; He was the final batter of two different world series, one on the winning end, and one on the losing end (He made the last out in 2006). More recently, he had another moment of World Series glory, a three run homer in the seventh inning of game five in 2010, to propel the Giants over the Rangers.
Best Marlins moment
: Do we really have to explain? Look at the picture. Better yet, see the video below:
Why now? Reportedly, Renteria is going to retire after not being offered any major league deals this offseason.