Monday, July 15, 2013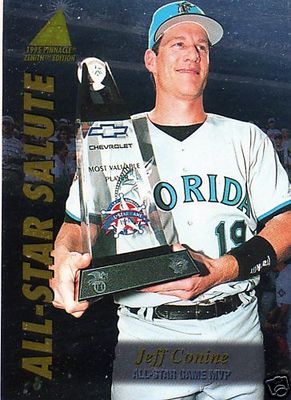 With the annual All-Star Game on deck, Ted and I thought it would be fun to look back at every All-Star in franchise history and sort the wheat from the chaff. The Marlins have benefited from MLB's rule that every team must be represented at the midsummer classic, as you'll see below. Indeed, it is a double-edged sword: it allows fans of bad teams to have at least a little rooting interest in the game, but it also results in some very undeserving All-Star selections. Today we will look at the bottom half of the ledger, with the top half coming Tuesday.
For purposes of ranking, we looked at each players Wins Above Replacement (as calculated by Baseball Reference and either ERA+ (for pitchers) or OPS+ (for position players). We excluded Jose Fernandez, as he only has half a season of stats to compare, and did not account for any pre-/post-ASG split (because that would have taken more time than we were willing to invest). Incidentally, Fernandez already has more WAR than the bottom 6 players on the list (2.5), and should he continue his hot play could easily catapult into the top half of this list.
Onto the rankings, beginning with the
Thanks for Showing Up
division (* denotes ASG starter):
39. Alex Gonzalez, 1999 (0.7 WAR, 91 OPS+): Someone had to go in 1999, and it was Gonzalez. He didn't have a terrible year, but his .277 batting average was complemented by only 15 walks in 591 plate appearances.
38. Edgar Renteria, 1998 (0.9 WAR, 88 OPS+): See above. El Niño led the NL by getting caught stealing 22 times.
37. Gaby Sanchez, 2011 (2.7 WAR, 113 OPS+): Gaby wasn't that bad in 2011, but in hindsight Giancarlo Stanton (4.1 WAR, 141 OPS+) would have been a better choice. Sanchez hit .293 in the first half of the season, then took a major nosedive, hitting .225 in the second half.
Next up, the
Good Thing Your Position is Not That Deep
division:
36. Paul Lo Duca, 2005 (1.2 WAR, 92 OPS+): Look, no one expects a catcher to do that much on offense. But you do have to do something on defense every once in awhile. Lo Duca was third in the NL with 29 runners caught stealing, but also gave up the most stolen bases (89 - for a CS% of 24.6%).
35. Luis Castillo, 2002 (2.0 WAR, 95 OPS+): Castillo led the NL with 48 stolen bases, but got caught 15 times, second most in the league. He was solid on defense, and hit .301.
34. Charles Johnson, 2001 (2.4 WAR, 100 OPS+): CJ threw out 37 would-be base stealers (5th in the NL), but was the epitome of average at the plate.
Now let's pause and consider that democracy is not always the optimal decision-making mechanism. This is the
Fan Votes are Flawed
division:
33. Gary Sheffield*, 1993 (-0.1 WAR, 120 OPS+): Acquired in a late-June trade with the Padres, Sheffield was voted in by fans as a starter, even though he probably did not deserve it. His terrible defense (-3.0 dWAR) outdid a so-so offensive year (2.9 oWAR). His 34 errors were third in the NL. On the plus side, Sheffield went 2 for 3 with a home run in the game, so at least he acquitted himself nicely.
32. Hanley Ramirez*, 2010 (2.7 WAR, 126 WAR): Not that we didn't love watching Ramirez start in the All-Star Game for the third straight season, but this selection was based largely on his reputation (having won the batting title the previous season). He hit .300 in 2010, but in hindsight this season was the beginning of his decline into a very undistinguished hitter (though he has been very hot thus far in 2013).
Our next category is the
Franchise Hero
division, featuring two players who can do no wrong:
31. Jeff Conine, 1994 (2.8 WAR, 130 OPS+): Conine had a better year in 1994 than his other All-Star season, but he didn't win MVP in the 1994 game, so that knocks him down a few pegs.
30. Mike Lowell, 2002 (3.0 WAR, 116 OPS+): Lowell was better in 2003, but
29. Lowell, 2003 (2.7 WAR, 128 OPS+): Lowell had his best season with the Marlins in 2003, hitting a career-high 32 home runs despite missing the last month of the season with a broken hand. He also won the NL Silver Slugger for third-basemen.
28. Conine, 1995 (2.6 WAR, 135 OPS+): Not the most distinguished season, but Conine did win ASG MVP thanks to his decisive home run.
These guys all had better All-Star years, but were still clearly deserving of the honor. It's the
Better Seasons in the Portfolio
division:
27. Dan Uggla, 2006 (3.0 WAR, 112 OPS+): He had better years to come, but 27 HR and .480 slugging as a rookie is nothing to be ashamed of. Uggla finished third in NL Rookie of the Year voting, behind teammate and winner Hanley Ramirez and Ryan Zimmerman of Washington.
26. Miguel Cabrera, 2007 (3.2 WAR, 150 OPS+): His last All-Star year with the Marlins was his worst, but he still hit 34 home runs with a .965 OPS.
25. Cabrera, 2004 (3.4 WAR, 150 OPS+): 33 home runs, 112 RBI in his first full season in the majors. Yeah, he was pretty good.
24. Castillo, 2005 (3.6 WAR, 108 OPS+): Castillo won his third straight NL Gold Glove, hitting above .300 for the fifth time in seven seasons.
23. Dontrelle Willis, 2003 (3.9 WAR, 127 ERA+): The Rookie of the Year and folk hero of the 2003 World Series team, Willis could do no wrong.
These two appeared in the midsummer classic during their only year with the team, making them the
One-Year Wonder
division:
22. Armando Benitez, 2004 (3.4 WAR, 319 ERA+): Led the NL with 47 saves, and had a crazy-outlier .176 BABIP. Sometimes it's better to be lucky than good (and even better to be both).
21. Moises Alou, 1997 (3.5 WAR, 130 OPS+): Alou slashed .292/.373/.493 en route to a World Series title. Sheffield was arguably better among his teammates, but he did not make the All-Star team.
Rounding out the first part is the
One-Timers' Club
, both of whom made one All-Star appearance as Marlins (though both made additional appearances with other teams):
20. Ryan Dempster, 2000 (4.2 WAR, 121 ERA+): Hard to remember, but Dempster was once the ace of the Marlins' staff (shudders). He had 8.3 K/9IP, but benefitted largely from having no other good All-Star candidates on the team that year.
19. Bryan Harvey, 1993 (4.0 WAR, 257 ERA+): Harvey was third in the NL with 45 saves for the expansion Marlins, helped by a career-low .240 BABIP. His 0.841 WHIP was absurd.
Click here to read Part 2
.