Tuesday, April 1, 2014
Hey, remember last year when the #Barves got in a tizzy because Jose Fernandez dared to have fun after hitting his first major league home run? We're sure there were plenty of wet blankets who thought at the time, Let's see how Cuban Jesus reacts when someone shows him up with a home run trot. Then on Opening Day, this happened: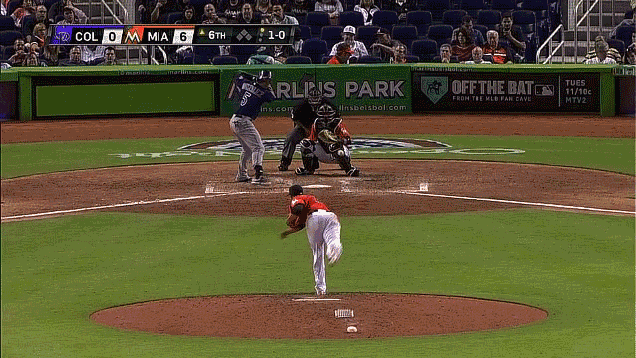 That was Carlos Gonzalez hitting a tape-measure shot off Fernandez in the sixth inning. Below is
Gonzalez' reaction after the game
:
"It was fun. It was nothing like he was mad at me. We have a really good relationship," Gonzalez said. "When he gets you out, he lets you know. So why not do the same thing when you get him?"
And indeed, Fernandez "yelled good-natured barbs at Gonzalez from the dugout" after he was pulled from the game.
Fernandez told the Miami Herald Tuesday
:
"We were just joking around," Fernandez explained Tuesday of the stare down he gave Gonzalez as he rounded first and the subsequent good-natured barbs they yelled at each other from the dugout. "I told him, 'I don't know what I'm going to throw you next time.' He's like 'Don't even talk about it you struck out everybody.' We talked after the game. No big deal."
So it's nice to know that Jose is still approaching his job like the game it is.