Tuesday, November 8, 2011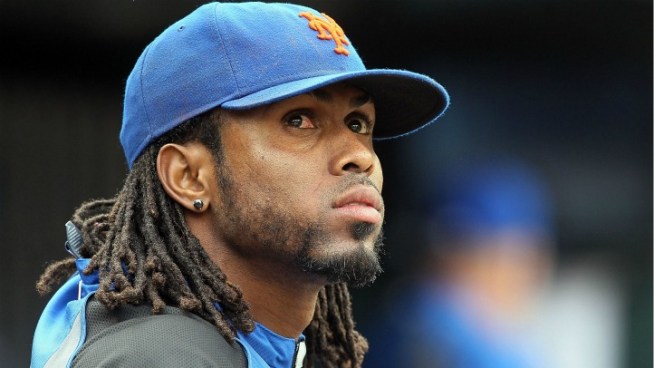 Free agency is under way, and lo and behold, the Marlins are seemingly major players for more than a few big names. For real! This is not satire! I swear!! ...!!!
First, there's Mets shortstop/speedster
Jose Reyes
:
The Miami Herald reported Monday that at 12:01 a.m. Thursday, the precise moment when teams were allowed to begin free agent negotiations, the Marlins contacted New York Mets shortstop Jose Reyes. According to the Herald, a team of front office higher-ups traveled to New York last week, ostensibly to speak with Reyes' agent.
Signing Reyes would kill two birds with one stone. Hanley Ramirez could move to third base, where he is less prone to injure himself, and the Marlins gaping vacuum at the hot corner would be filled in the process. Plus, the Fish would essentially replace Emilio Bonifacio - an extremely destitute man's version of Reyes - with Reyes himself.
Reyes is 28, so he still has plenty of productive years ahead of him. At Fish Stripes, Michael Jong estimates Reyes being worth 5 wins a year, which would be worth the hefty contract he will surely demand.
We discussed Yoennis Cespedes yesterday, but it bears repeating: insiders are saying the Marlins have the inside track in signing him. When's the last time we heard that about someone who is also drawing interest from the Yankees?
Finally, reports are swirling that the Fish are
meeting today with Mark Buehrle
, formerly of the White Sox. I'm less excited about him than I am about Reyes or Cespedes, but each starting pitcher signed reduces the likelihood of Chris Volstad staying in the rotation, so there's that's a plus.
Anyway, I know it is disorienting to hear about the Marlins becoming big spenders, but that could be the new normal (so long as the team sells plenty of tickets to that shiny new stadium in Little Havana). Enjoy it! Prepare your Nelson Muntz laughs if Florida manages to outbid the Yankees for Cespedes.