Tuesday, November 22, 2011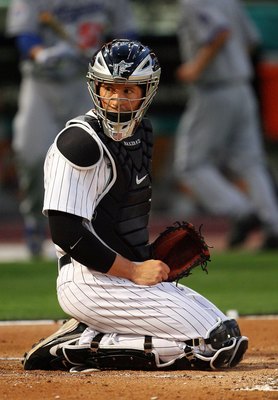 The Marlins announced Tuesday that C John Baker has been shipped to the San Diego Padres in return for LHP Wade LeBlanc. Baker missed most of the 2010 and 2011 seasons due to Tommy John surgery (
his series of posts
about coming back from the surgery for BLS are a must-read). But with John Buck firmly entrenched as the Marlins' starting catcher, Baker is the odd man out (not coincidentally, he is up for arbitration this offseason).
I'm pretty sure that Baker was the first Marlin on Twitter, so you can imagine that Ted and I are sad to see such a media-savvy player leave the team. It's been grand,
@manbearwolf
.
It's hard to tell what LeBlanc has to offer the Fish, other than a back-of-the-rotation option should some of the team's free agent targets not sign. LeBlanc made 14 starts for San Diego last season, but his 3.16 BB/9 and home-road splits are cause for concern (San Diego's Petco Field is decidedly a pitcher's park). Let's just call LeBlanc Miami's Plan B and hope the team can land one of the free agents it is honing in on and convince Javy Vazquez to come back for one more go-around.