Thursday, August 11, 2011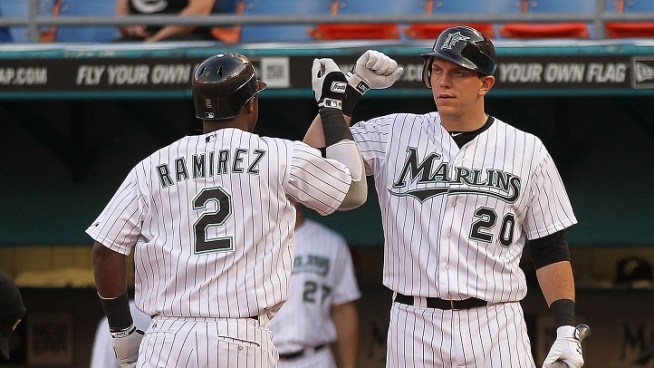 via NBCMiami
The Marlins have placed Hanley Ramirez on the 15-day disabled list due to the shoulder injury he
sustained while hustling
last week, and Logan Morrison is frustrated with Hanley yet again.
This
is not exactly the take-away from
our last post
I had in mind:
When asked by the Sun-Sentinel whether Ramirez could become a veteran anchor, Morrison replied, "I guess, but he's not there every game. It's 162 games. It's not a 100-game season."
He preceded that sentence with "What we don't have is experience and a veteran who is in the lineup every day that can be an anchor for us. We don't have it."
First of all, getting injured twice in one season is not poor leadership, it's bad luck. And if the Marlins need anything, it is better players around Ramirez himself (keep in mind this team has trotted out Omar Infante all season and had to resort to starting Mike Cameron when Chris Coghlan got injured - not that he was setting the world on fire before his injury). Take away Ramirez, Morrison, Gaby Sanchez and Mike Stanton, and the Marlins lineup is the opposite of imposing. Greg Dobbs, Mike Cameron, and Emilio Bonifacio may be nice dudes who try hard, but they are not everyday starters on most MLB teams.
Regardless, the biggest victim of Hanley's yearlong slump has been Hanley himself. His perceived "lack of effort" was more bearable when his batting average was north of .300. Now that he's underperforming Bonifacio (!), not so much.
UPDATE: Late last night Morrison disputed his quote in the
Sun-Sentinel
,
tweeting
, "funny how u left the part out about how unfortunate it is that he was hurt and that he could be an anchor if he was healthy." But as
I mentioned at NBCMiami
, "Replying 'I guess' when asked whether Ramirez could be a veteran anchor is hardly a rousing endorsement of his teammate." Expecting the media to be tactful for you is beyond naive, something Morrison could have learned from sharing a clubhouse with Ramirez for two seasons.